Why spend more time that you need to weeding your garden?
Either you're stuck using chemicals that are bad for you and your family, or you have to juggle a half dozen different tools just to get the job done. Thankfully there's a better way! 👇👇👇
This long-acting weeding tool removes weeds without taking the risk of carrying it. 
🍀 LABOR SAVING:
The 39-inch high handle allows you to remove weeds without having to bend or kneel. When you use the weeder to remove grass/flower which can assure minimum fatigue.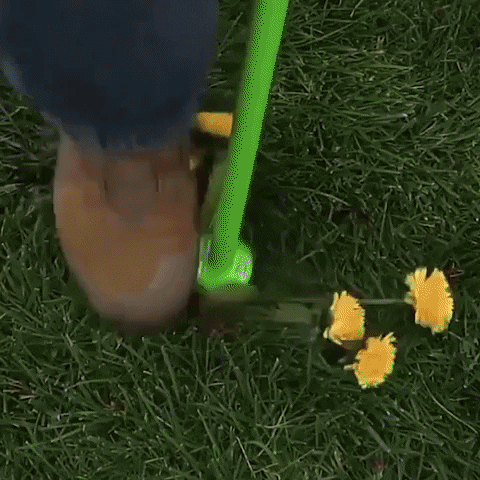 🍀EASY TO USE–
The step and twist garden/lawn steel weeder makes it easy to remove many weeds, including dandelions. being able to grab weeds and their roots for permanent removal, the weeder ensures comfort and easy usage. Ideal for permanently removal of many weeds, including dandelions, thistles and other invasive ones with ease.
🍀DURABLE AND HIGH STRENGTH MATERIALS –
This weed removing tool is made from durable stainless high strength steel. This is a durable stainless steel garden weed puller, so you don't have to buy another weeder.
How To Use
Step 1:Place pointed claw over the weed to be removed and push weeder into the ground firmly using the force of your foot.
Step 2:Twist the handle to one side and uprooted weed.
Step 3:Press the button to remove the weed.
❓Question & Answer❓
Question: Does it work well with dandelions?
Answer: It will work fine with dandelions. Works better if the soil has moisture in it.
Question: How well does this work on Canadian Thistle? These have a deep tap root that has to be removed.
Answer: It was designed to pull broad leaf weeds like Dandelions which have a long tap root. Works pretty well especially if you get to the weeds when they are young.
Question: will this work in a garden?
Answer: Yes. It will work anywhere there are weeds in the soil. The prongs on the bottom tighten its grip around the weed as you pull up.
Question: How heavy is it? I am 4′ 11″ tall. Will I be able to use it with ease?
Answer: You should be able to use it with no problem.  It is not heavy or difficult to use at all, especially once you get the hang of it. Very effective product, as well.