Baby Hammock
Our Baby Hammock creates the safest environment for your baby. The Baby Hammock simulates a mother's womb as it keeps your baby extremely comfortable and safe. It attaches to any crib and helps reduce environmental risk factors associated with SIDS (Sudden Infant Death Syndrome). This hammock promotes healthy baby development and takes away dangers to an infant.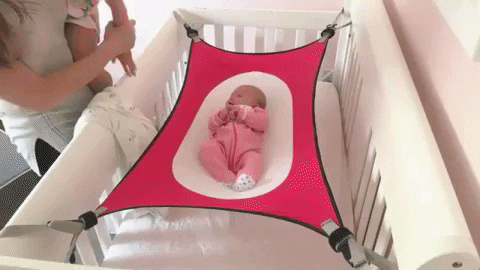 FEATURES:

Safe and comfortable for all infants
Reduces risk of the flat head syndrome
REDUCE ENVIRONMENTAL FACTORS OF SIDS – By using a natural, breathable, flexible, mesh we have designed our system to promote a healthy environment, regardless of a baby's movement or positioning.
Softer air-like property for your baby to rest
TESTED FOR SAFETY– Fully compliant with CPSC product safety standards. Unique shape and function helps newborns self-soothe and stay asleep longer.
CREATES AN IDEAL MICROCLIMATE – Soothes colic babies better than bassinets and cradles. Breathable mesh helps maintain an even temperature while reducing the risk of SIDS.
Promotes great posture and healthy spinal curve
Recreates a mother's womb
SPECIFICATIONS:
Material: Coral fleece + Upper Layer Double Net
Size: 110 x 70CM/105 x 55CM
Weight: 290g
PACKAGE INCLUDES: