?AUTOMATIC ELECTRONIC FLY TRAP?
CATCH FLIES EASILY AND IMMEDIATELY ????

Do not ever kill the flies that haunt your house, with the AUTOMATIC ELECTRONIC FLY TRAP just catch them easly and give them life outside your home. ????
Perfect for the kitchen or ranches, farms and kennels where there are a lot of flies. Keep indoors as it is not waterproof ????????
Environmentally friendly, safe and does not use chemicals to trap flies. Use physical methods to catch flies. ???????? 
How does it works?????
1?? Place sugar water or soft food crumbs in the five bait stations located on the trap.
2?? When the flies go to feast, the swivel arm glides over them to trap them inside.
3?? Uncover the red cap at the bottom to empty the tray.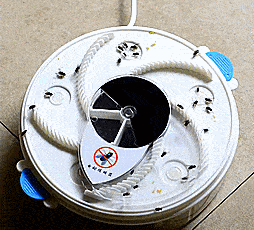 It will run very slow, otherwise the flies will get scared and fly.
¡100% Guaranteed! ????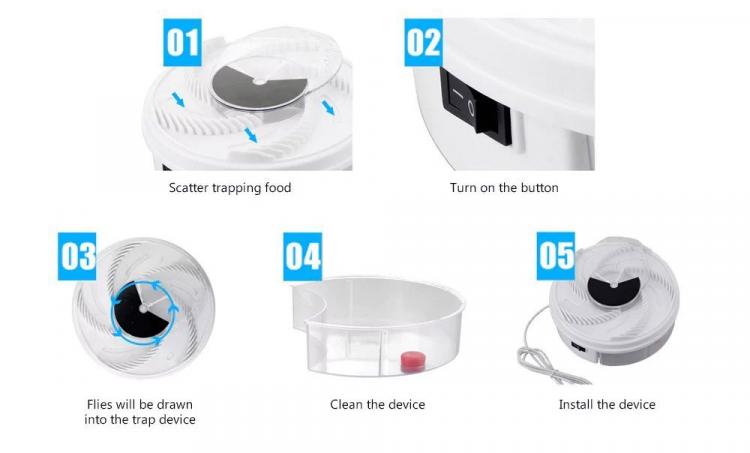 Don't try harder to kill those annoying flies????
?High efficiency capture ?
?Use cheap sugar as bait, you can quickly catch hundreds of flies.
?USB interface to connect power ????
?Environmentally friendly, safe and does not use chemicals to trap flies ??
??Features??
????Size: 7.0 x 7.0 x 3.0 inches.
????Voltage: 220/240 V.
????USB frequency: 50/60 Hz. Power: 4 W | USB cable (without plug)
Shipping ????
USA Orders FREE:

 Y

our order will be delivered

 

5-7 days after being dispatched, USPS/DHL tracking number will be provided.
International Orders:

 

Free International Shipping Available. F

or orders from CA, UK and AU, please allow 10-12 days for delivery. For additional shipping details please visit 

Shipping & Handling FAQ's andPolicies.
Returns – 30 Day Money Back Guarantee Policy????????
We want to make sure that you are completely satisfied with your purchase, therefore we offer a

 

30 Day Returns Policy

 so that you can send any damaged or missing part items back to us (within 30 days of the delivery date) and we will refund the cost of your items or replace your product. For additional return policy details please visit

 

Return Policies.