If you always bite your nails, you'll love this. This ring freely spins against your finger and offers a great way to alleviate nail-biting, skin-picking, and anxiety.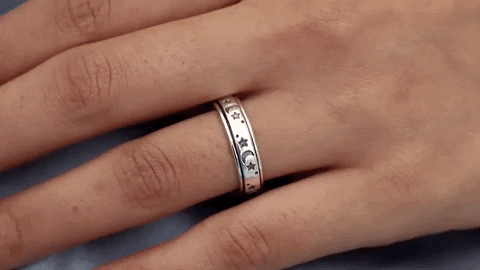 Our elegant moon and star ring is made to provide stress relief and prevent anxiety. It is an inexpensive solution to the common problem of biting nails. The spinning motion of this ring is designed to calm anxiety and bring about a peaceful state of mind.

Care instructions: Add a light dab of bearing oil to lubricate the ring.

Natural Wear and Tear
Any jewelry made with copper such as .925 sterling silver, yellow and rose gold items can tarnish slightly over time given various skin oil types. Although this is caused by natural properties found in metals, our special plating technique prolongs the process as long as proper care is taken! Our rings contain moving components and they require occasional lubrication with bearing oil (can be found on Amazon).
MATERIALS
–S925 Sterling silver
-Stainless Steel